Uploading your project using FTP
In order to use FTP upload on RenderStreet, please follow these steps:

1. Connect your FTP client
to our FTP server by using the credentials shown in the
storage location
page in your account.

Important: please make sure to use the correct host address listed in your account, in the storage location page.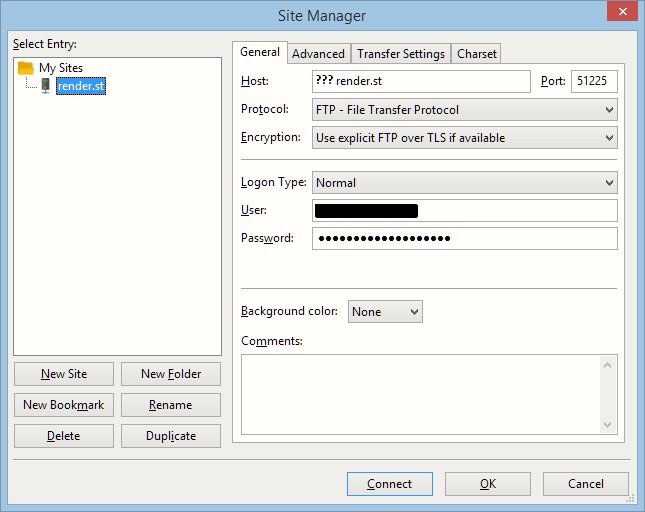 As an FTP client, you can
use Filezilla
, which is free and available on all operation systems.
For Windows users, there is also the possibility to map a drive to our FTP server. See
this article
for more information.
If you are using Filezilla, the screenshot below shows exactly how you can configure the connection.

Please make sure to use the server name specified in your account as explained at step 1.

2. Upload the files

a) For Blender, you can upload:

a packed .blend file

a packed .blend file in a ZIP archive

an unpacked .blend file with textures and other data in a ZIP file. Note that, if you upload unpacked files, they must use relative paths.


an unpacked .blend file with textures and other data in a separate folder. This needs to use relative paths as well.



b) For Modo, you need to upload all of the items below:

the _bundled lxo file

the '

imported_images' folder



external MDD / ABC caches if necessary (see this article for more information)

IMPORTANT - When uploading the files, always create a folder in the FTP root and upload all project files in that folder. Never upload files directly in the FTP root, as this will cause them not to sync properly with the render nodes.

2. Launch your render job

At the bottom of the page, select "Use a file already uploaded on FTP"


Select the file you need to render. If you uploaded unpacked files in a folder, you'll be informed what part of your FTP tree will get used for rendering the project. Please make sure all project dependencies are in the highlighted file tree.
For a method to also download the renders on FTP, check out
this article
.
Related Articles

How to pack your Blender file for uploading

You can upload your files to RenderStreet either packed or unpacked. Read below for instructions applicable to each case. These instructions only apply if you wish to upload the project manually, via FTP, cloud transfer or directly to our website. If ...

Automatically downloading the renders on FTP

Update 2021: As we have upgraded our FTP servers to support newer (and safer) security protocols, FTP Voyager no longer works. This article will be revised soon to suggest other software to be used for this purpose. In case of large renders, or for ...

Mapping an FTP drive in Windows 7/8/10

If you are using Windows 7, 8 or 10, you can map your RenderStreet FTP account as a drive in your system. This makes the file operations easier, as you will be able to use the FTP account as a regular drive. You can see here a step-by-step tutorial ...

Using alembic caches in Blender

When using Alembic files with Blender, please follow these steps to make sure they are set up correctly: 1. On your computer, copy the abc files in the same folder as the .blend file 2. In the blend file, locate each modifier that uses alembic and ...

Automatically uploading renders to your cloud account

Your RenderStreet account can be set up so that all your renders are uploaded directly to your cloud account. Once the initial setup has been completed, all the renders that are completed after that moment will be automatically uploaded to the ...