On RenderStreet, you have the option to share the renders from a completed job with another party. This may be useful in case you need to send the renders directly to your client, or another team member, without providing them with access to your RenderStreet account.

This method will share the renders archive (the same one that can be accessed through the 'Download All' link from the job details page), by creating a unique download link for the file. You can then share the link with the person(s) you wish to allow to access the renders from that specific job.
In order to share the archive:
1. In the job details page, wait for the icon near the 'Download All' link to turn into a flame.

. This indicates that the archive has been transferred to our fast download location.
2. Click the 'share' icon near the 'Download All' link.
3. In the dialog box that opens, specify the validity of the download link. The link will only be valid for the specified time interval after its creation. Once the time interval expires, the link will no longer be available

4. Click the 'Create link to Share' button. The unique link will be created and the URL will show in the same dialog box.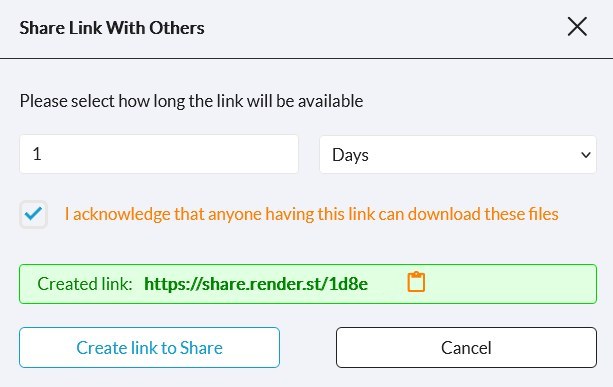 5. Copy the link and share it with the desired parties. They will be able to use it to download the renders, as long as the link is in its validity period.


Important! Any person that has access to the link while it is valid will be able to download the associated renders. Please make sure to only share the link with the intended parties.